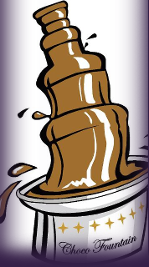 Fruits

Strawberries

Kiwi

Pineapple

Grapes

Oranges

Apple Slices

Bananas (frozen or fresh)

Marachino Cherries

Pears

Raspberries

Blueberries/Blackberries

Honeydew Melons/Melon Balls

Mandarin Orange

Cantalope/Melon Balls

Mango/Papaya

Star Fruit (Carambola)

Dragon Fruit

Kumquats

Fresh Coconut Chunks

Dried Apricots

Other Dried Fruits
Other Suggested Dipping Delights:
Chocolate Fountain Dipping Ideas
Pretzels
Pretzel Sticks
Marshmallows
Coconut Marshmallows
Cheesecake Squares
Angel Food Cake
Frozen Twinkies
Zingers
Rice Krispy Treats
Animal Crackers
Vienna Fingers
Graham Crackers
Graham Cracker
Sandwiches (with Frosting!)
Mini Cream Puffs - Frozen
Mini Chocolate Eclairs - Frozen
Potato Chips
Pork Rinds
Sesame Sticks
Ritz Crackers
Raisin Clusters
Caramel Popcorn
Much More!

Pringles
Bugles
Candies
Waffles
Donuts/Holes
Pastries
Mint Sticks
Biscotti
Waffle Cone Chips
Bagel Chips
Corn Chips
Brownies
Brownie Bites
Eclairs
Toffee
Candy Canes
Peppermint Twists
Cinnamon Sticks
Cinnamon Twists
Caramels
Mini Muffins
Cookie Dough Balls
Ice Cream Balls/Bonbons
Ice Cream Sandwiches

Gummy Bears
Cinnamon Bears
Twizzlers/Licorice
Candied Pineapple
Orange Slices
Circus Peanuts
Mint Sticks
Chick-O-Stick
Scones
Nuts
Nut Clusters
Granola Bars
Breakfast Bars
Fruit Bars
Almond Meringue Puffs
Peanut Butter Balls
Popcorn Balls
Peanut Brittle
Popsicles
Lolly Pops
Bonbons
Rasins
Figs
Go Wild!
Chocolate chip

Sugar Wafers

Vanilla Wafers

Oreo Cookies

Coconut Macaroons

Gingersnaps

Tea Biscuits

Nutter Butters

Fig Newtons

Almond Butter Thins

Shortbread Cookies

Pirouette Cookies

Milano Cookies

Fortune Cookies

Snickerdoodle Cookies

Lady Fingers

Meringues

Gingerbread Cookies

Mint Oreo Cookies

Animal Crackers

Sugar Cookies

Monster Cookies

Oatmeal Cookies

Chocolate Cookies

Oatmeal Raisin
Cookies

Mrs Fields Cookies

Peanut Butter Cookies

Graham Crackers

Girl Scout Cookies
May Be Ladled onto:

Wedding Cake

Cake~Pound,Carrot,Red Velvet,German

Pastries/Cobbler

Pies~Apple,Cherry,Peach,Pumpkin,Pecan

Bread~Banana,Cinnamon,Carrot,Zucchini

Brownies/Bread Pudding

Cinnamon Rolls

Cheesecake

Banana Splits

Ice Cream

Sundaes...and More!
Specialty
Chocolate Choices:

We use only the
Best
Chocolates:

Ghirardelli

Godiva

Callebaut

Guittard

Nestle

Grand Place

Felchlin
Chocolate Fountain Dipping Suggestions/Ideas: If you do not see your favorite chocolate fountain dippers/dipping food item listed above, please send us any & all of your favorite dipping item suggestions so we can add them to our list! ~food to dip into chocolate fountains~dip skewered fruit or food items into the chocolate fountain with bamboo skewers provided with all of our chocolate fountain rentals. Our standard Bamboo skewers are 8" long. Skewers of optional sizes available. Chocolate Fountain Treats to Dip in the Chocolate Fountain. Chocolate Fountain Dippers & Chocolate Fountain Dipping Items.