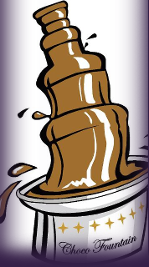 Choco Fountain, Inc.
Chocolate Fountain Manufacturer Info
*Choco Fountain, Inc. is Proud to Present the "Next Step" in Chocolate Fountains*
Choco Fountain, Inc. is the only Chocolate Fountain Manufacturer that features a removable base bowl and Made in the USA!!
USA Chocolate Fountain Manufacturer

Choco Fountain, Inc. manufactures, markets, and provides chocolate fountain rentals that have been designed with unique and exclusive features not found on any other brand of chocolate fountains. We have developed a much safer and greatly improved chocolate fountain with exclusive features in great demand by caterers as well as wedding, party and event specialist all over the world! Before you purchase your next chocolate fountain please read the following information provided below, review the specifications, see the photos and compare Choco Fountain. After doing this, We are sure you will agree that there is not any other chocolate fountain equipment manufactured anywhere in the world that comes close to offering what Choco Fountain has.

The Chocolate Fountains are completely made up of stainless steel and weigh about 60 lbs. Chocolate flows up a specially-made auger that rotates to bring chocolate from the heated base to the opening at the top of the chocolate fountain. The warm chocolate then cascades over four seperate tiers, collecting at the tempered basin before spiraling to the top again. This amazing process creates the Ultimate Chocolate Experience!
Exclusive Choco Fountain Features Include:

---

Drop on Cascade Tiers - No Tools Needed! - No Tools needed. Just slip on, and perfectly level every time!

Removable Base Bowl - Removable base bowl allows faster clean up not only because it can be submerged and/or placed in a dishwasher, but when the performance is over, the bowl can be removed to pour out the remaining chocolate. (Other machines have to be poured out by lifting the whole base of the unit (approximately 80-100 lbs with the chocolate) or need to be emptied by using a ladle to spoon out the remaining chocolate).

All Food Zone Parts Are Dishwasher Safe - All parts that normally contact the chocolate can be sanitized in a dishwasher. This includes the drop-on, lift-off removable base bowl. Even the drive and the seal in the base bowl can be easily disassembled for inspection and/or cleaning. (Other machines have the bowl permanently attached to the base with the motor and cannot be submerged in water. Most of the time mold is growing under the seals in the competitor's fountain equipment and no one realizes it).
Easy to Assemble, Operate, and Clean - Assembly can be done in less than one minute without the use of tools. With the slip off tiers, removable base bowl, and dishwasher safe parts - clean up is a snap!
Uses Minimal Chocolate to Operate - Choco Fountain model 1818 requires only 7 1/2 lbs. of chocolate to operate properly for smaller events, but can hold up to 30 lbs of chocolate for larger events. This gives you more than twice the amount of usable chocolate for your guests compared to competitor's machines that require a minimum of 12 lbs of chocolate to operate properly, and will only hold up to 22 lbs of chocolate maximum.
Precise Heating Control - Choco Fountain is the only fountain that has a large cast aluminum heat cradle that completely encases the underside of the removable base bowl. This allows the chocolate to be melted in the bowl and guarantees uniform, even temperature anywhere in the bowl without the risk of scorching the chocolate (other machines have large temperature differences in the bowl with hot spots that will scorch and ruin the chocolate easily).
Precision Machined Auger - Choco Fountain has better chocolate flow because it is the only fountain with a close tolerance, precision machined, heavy duty auger. Unlike all other fountains, Choco Fountain's auger does not have any crevices or openings between the center shaft and the flighting on the auger, making it much, much easier to clean. Choco Fountain's flighting is welded continuously on both sides and then ground smooth. (All competitor's augers have interrupted welds that create crevices and openings that are very difficult to clean).
Top Quality American-Made Motor - Choco Fountain uses an American made gearmotor designed specifically for our fountains. It is the most powerful motor offered by anyone, and is the only one that has special insulation to withstand the high operating temperatures found inside all chocolate fountain machines. Even the mounting of the motor has been designed to be substantially stronger than any other, as the mounting flanges are parallel with the stator housing (other chocolate fountains have problems with motors breaking off from being mounted on the gear box or on an end plate). This motor is warranted for 3 years (other manufacturers only warrant motors for 2 years).
Double Circuit Breaker Protection - Choco Fountain is the only machine to provide a circuit breaker for the total electrical circuit as well a providing an additional circuit breaker for motor protection alone. The wiring is modular plug and recepticle construction and is high temperature rated (302*F) with all crimped connections soldered for complete reliability. (no other chocolate fountain manufacturers provide this).

Base Skirts Can Be Personalized With YOUR COMPANY NAME/LOGO! - Choco Fountain has a removable, interchangeable skirt panel, and can be supplied with cut outs that are shaped like stars (standard design), hearts, wedding bells or any custom design that you request for an additional charge. You can even order the skirt panel with the name of your business laser etched on it for an additional charge (no other machines can provide this).

Meets and exceeds all NSF Specifications - Choco Fountain is the ONLY fountain that protects the guests using it from the RISKS associated with eating chocolate or other flowable foods that have been contaminated by mold, bacteria and fungi that grow under the bowl seals and in the auger crevices in all other brands of chocolate fountains. Choco Fountain chocolate fountains are much safer to use than fountains made by any other company.

Custom Built for Worldwide Use - Choco Fountains are supplied with an electrical cord plug that will fit into the wall receptacles in your country, or will meet the specifications that you request. The motor supplied for the Choco Fountain is available as a 115 volt 60 Hz motor, or as a 220v 50 Hz motor. The operating speed of the auger is the same for both - this assures the same performance with either voltage. (Other machines operate at lower speeds when using 50 Hz electricity). Choco Fountain does not require any adapters or converters. Choco Fountain, Inc. Manufactures the best Chocolate Fountain equipment...PERIOD!

Costs Less To Operate - Less time for set-up, less time for clean-up, waste less chocolate, less maintenance, with the most versatile chocolate fountain available.

ATA Flight Approved Case With Handle & Casters

*MADE IN THE USA!!*- Built To Last!

As a Chocolate Fountain Manufacturer, We Sell Chocolate Fountains Worldwide, And We Look Forward To Introducing You To:

THE ULTIMATE CHOCOLATE EXPERIENCE!

What is the total cost of the unit?
Small: HOME UNITS NOW AVAILABLE!!!!
Medium: CALL FOR PRICING! - Includes Transport Case + Free Shipping in the US!
Large/Medium Combo Unit: CALL FOR PRICING! - Includes Transport Case + Free Shipping in the US!!
Extra Large: CALL FOR PRICING! - Includes Transport Case + Free Shipping in the US!!
***Please Call With Any Additional Questions***!

USA Chocolate Fountain Manufacturer
Toll Free(877)882-4050